Try to resist the magnificent view of Treanto Boutique Hotel and relax on the beautiful, clean and famous beaches of Nafpaktos.
Psani beach
Psani beach is situated on the western area of the beautiful port of Nafpaktos and is characterized by its beauty along with its convenient facilities. It is a long beach, about 5km long and has a wide range of restaurants, cafes and other facilities. The road above the beach is a picturesque promenade, ideal for walking and bicycling. Walking along the coastline of this beach leads to the fortified castle of Nafpaktos, the main attraction in town, which also counts on bars and open air restaurants where to enjoy great views.
Psani beach is awarded with Blue Flag Award, cleaned every day, and there are small and large litter bins every few meters to keep it that way.
Regarding the activities that can be performed on this beach, apart from swimming, there is also a tennis court, as well as two modern playgrounds for children, which allow their parents to relax while they play in safety.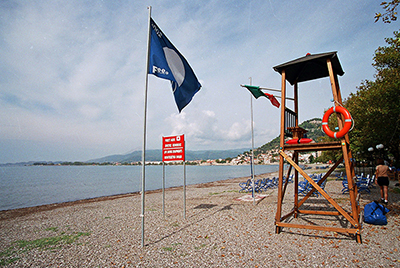 Gribovo beach
The beach of Gribovo is one of the main coastal resorts on the eastern side of Nafpaktos and also one of its two organized beaches, counting on showers and changing rooms, and providing lifeguards during high summer season. The beauty of this beach is well cared, daily cleaned and awarded with a Blue Flag Award. Gribovo beach counts on golden sand, especially near the water, and small pebbles in the rest of the beach. It also has large sycamore trees by the seashore, offering great shade to rest after a relaxing sunbath. During summer the beach road becomes a pedestrian zone, which is a measure taken to avoid accidents. When it comes to the basic requests, such as getting something to drink or to eat, there are many sites available on the beach of Gribovo: bars, cafes, traditional coffee houses, as well as restaurants and taverns. As an extra facility for kids, it has a modern playground next to a small picturesque pond with ducks. On the east side of the beach, according to a local legend, you can see the fountain of love, where the goodness Venus bathed. Come and spend a great time on this beach, assured by its convenient facilities, cleaning measures, and picturesque environment.
Chiliadou beach
Chiliadou village is a small village in the grassy plain of Mornos, only 10km away from Nafpaktos following the national road to Itea.
Following the road of the village, you will find a sandy beach 2km long and a small port. Tourists and locals are visiting every summer the place of Chiliadou which is knowing a growth in tourism facilities, beach bars, cafes and restaurants.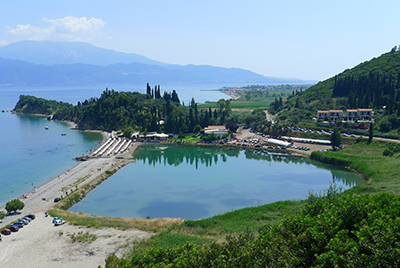 Monastiraki beach
Monastiraki is one of the most picturesque beaches near Nafpaktos. The sandy beach of Monastiraki is located 12 km east of Nafpaktos and is popular among tourists and residents. Monastiraki village is a traditional fishing settlement, also very picturesque with available facilities, such as bars and taverns on the coastline, providing the convenience of enjoying a refreshment or a meal without having to leave the beach. In one kilometer distance from Monastiraki, you can enjoy the Blue Lake coast which attracts many tourists and locals and has a beach bar offering many facilities.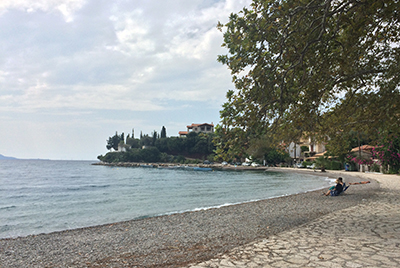 Skaloma beach
Skaloma village is 17km from Nafpaktos following the national road to Itea. The village is situated in a small bay forming a beautiful beach. You will be amazed by the beauty of Skaloma beach and its dark blue, clean and deep waters. On the road above the beach, you will find several shops for coffee, drinks or food. Skaloma is an ideal choice for the days with north wind. During August is really overcrowded.
Trizonia Island
Trizonia is a green island of the Corinthian Gulf and the only inhabited in the region. The all-year residents are only 60-70 people, but during summer season there is a great touristic flow.
If you want to reach the island you can drive 35km eastern from Nafpaktos to the village Chania. From there you should leave your car and take the boats that departure every hour during summer season. No cars and motors are allowed in the island.
This unknown island has a beautiful natural port, a marina for luxurious yachts and is ideal for short getaways. Along the coastline are found traditional taverns, restaurants and cafes and offering all modern comforts.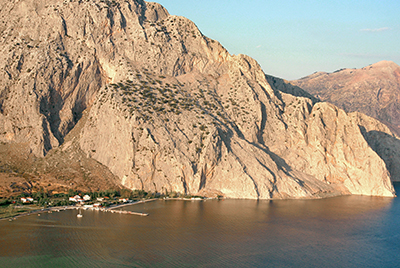 Kryoneri beach
Kryoneri beach is situated 38km western of Nafpaktos, on the Gulf of Patras and has a picturesque view of the limestone mountain Varasova which is famous for rock climbing routes. "Kryoneri" stands for the cold waters of the spring that flows from the rocks and then poured into the sea, dropping the water temperature and salinity. The beach is ideal for small children, well organized and has a variety of cafes and taverns with seafood.