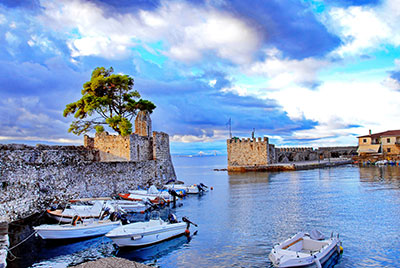 Built between Antirrio and the estuaries of the river Morno, Nafpaktos, the most beautiful city of Aitoloakarnania, awaits with the magical harbor, the amazing castle and the wonderful beaches.
The idyllic beaches overlook the calm waters of the Corinthian Gulf. The beauty of the mountains encircles the paradise of Nafpaktia. Great history is reflected in two important monuments which are the Venetian castle and the Venetian harbor.
Arriving in Nafpaktos, the spacious roads with the plane trees, the traditional corners and people of all ages enjoying the sunshine in outdoor restaurants and café by the sea, impress us. We start our tour in the city with a relaxed walk through the cobbled streets with its nautical houses and the well – preserved mansions. Bushy bougainvilleas and colorful flowers decorate the stone walls flooding the cozy neighborhoods with all kinds of colors and fragrances.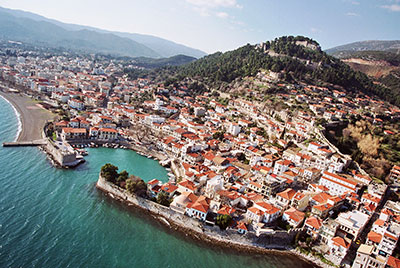 All the roads lead to the harbor, the smallest but the most beautiful of the Mediterranean Sea. In the eastern turret is located the old sailor lighthouse and the Fethiye Mosque, which was built in 1499. The marble slab reminds the battle of Nafpaktos in 1571. In the west side, next to the iron cannons that mark the sea, is the statue of legendary congressman George Anemogiannis and the statue of the famous Spanish writer Miguel Cervantes. A good idea is to visit the taverns through the pavement of Stenopazaro, taste delicious delights and relax.
Feeling refreshed, we begin the ascent to the Castle – one of the best-preserved fortifications with five levels – the history of which begins in ancient times all the way to the period of Ottoman rule. Reaching on the top we feel excited of the amazing views of the whole city, the harbor and the Corinthian Gulf with the impressive bridge of Rio – Antirrio. The picturesque chapel of Prophet Elias (from the 11th century), the clock – bell tower and the ruins of the old Turkish baths, magnetize us.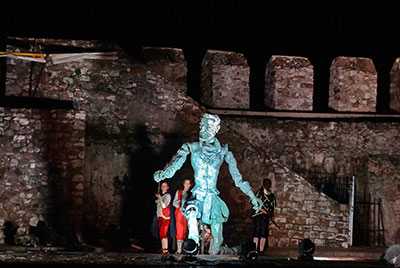 Leaving Nafpaktos, we can see the lights of the city twinkling in the calm waters and the full moon glimmering over the city.