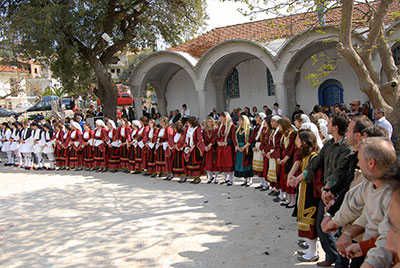 Scala village is located on a green hill, full of fruit and evergreen trees, at an altitude of 300m Noartheast of Nafpaktos, which is connected with a 4.5 Km road.
According to the archaeological research, the area of ​​Scala has been inhabited since the pre-Christian era. Northern of the Scala apartment, there are the ruins of the "Asclepius in Krounis", while northwest, in Logga, probably are the ruins of the ancient city, called Vouttos. In the northeast of the village are preserved traces of a church. It's believed that this was the monastery of St. John the Baptist which was later moved to its current location, on Vomvokou.
On the east side of Scala village and 4,5km away from Nafpaktos is the Monastery of Metamorfosis tou Sotiros (Transfiguration of the Saviour). Its construction started in 1977 with revenues mainly from the residents of Nafpaktos. The monastery complex consists of the Church, the common spaces, the monks' cells, the guest house of the monastery, the impressive newly-built temple and a special room, suitably equipped for lectures, scientific conferences and similar events.
Τhe fact that is located on a green hill, at an altitude of 300 meters, with panoramic views of the Corinthian Gulf,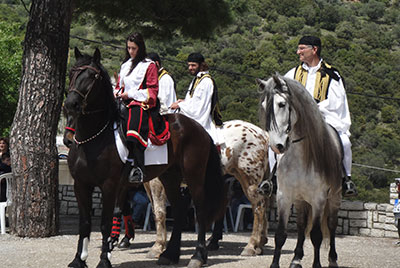 only ten minutes from Nafpaktos,is the big advantage of the wider area of Scala.
On Easter Monday, in Scala the residents and the guests dance the traditional dance "Gaitanaki", one of the few local customs that is rooted in the years of Ottoman rule. It is danced around the village in two parallel circles in which the dancers are placed by age range. The "driver" or master of ceremonies sings the first verse of the song and then he starts conducting the entire dance. The song consists of ten turns that are sung by women and men alternately. It is offered food and wine to the visitors, while the municipal orchestras and dance groups keep the enthusiasm undiminished.
Suggested routs
1. Scala - Palioskala - Neokastro

2. Skas – Ska George - Neokastro. The path of Ska stream is an ancient path that connects the villages of the mountain valley with Nafpaktos. The path begins north of the stream's confluence with the perimeter road of Nafpaktos. In the beginning it is located close to the bed of the stream, then climbs higher to meet the waterfalls again at the north.